A Personal Project of Passion
When it comes to home renovations, personal projects often carry a special touch of dedication and passion. For Brent Goschnick, this transformation wasn't just another project; it was a labour of love for his own home. This fact alone infused every aspect of the project with an extra layer of attention to detail and a commitment to perfection.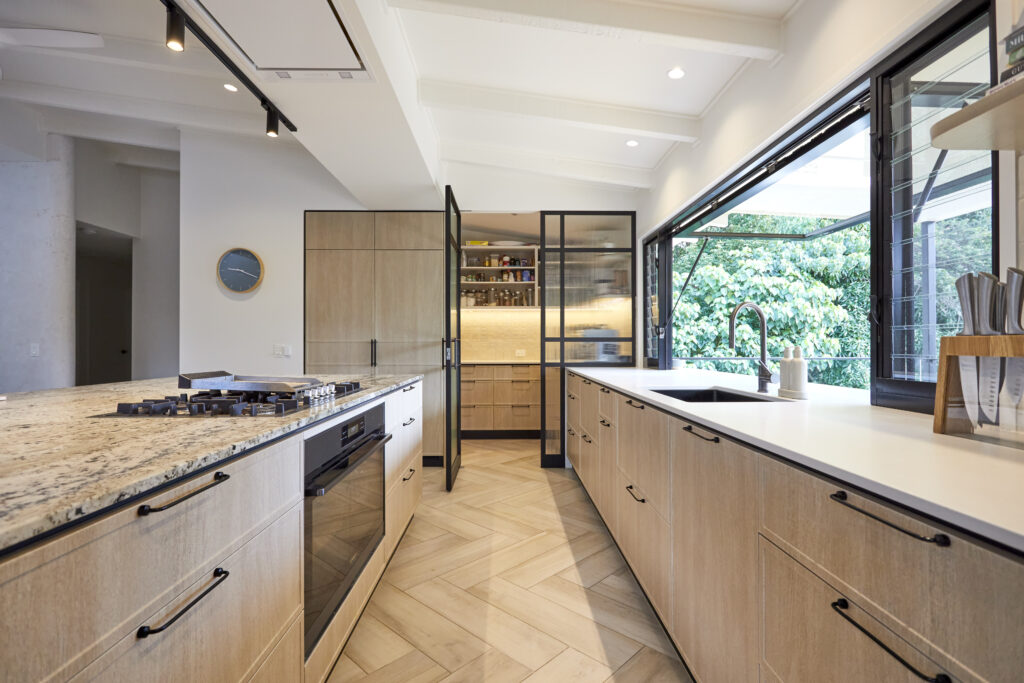 The Heart of the Home: The Kitchen
The kitchen is often considered the heart of any home, and in the Buderim project, this notion holds true. The kitchen boasts a modern design with black chairs and a luxurious marble countertop. It's a space where aesthetics meet functionality seamlessly, creating a culinary haven for the homeowners.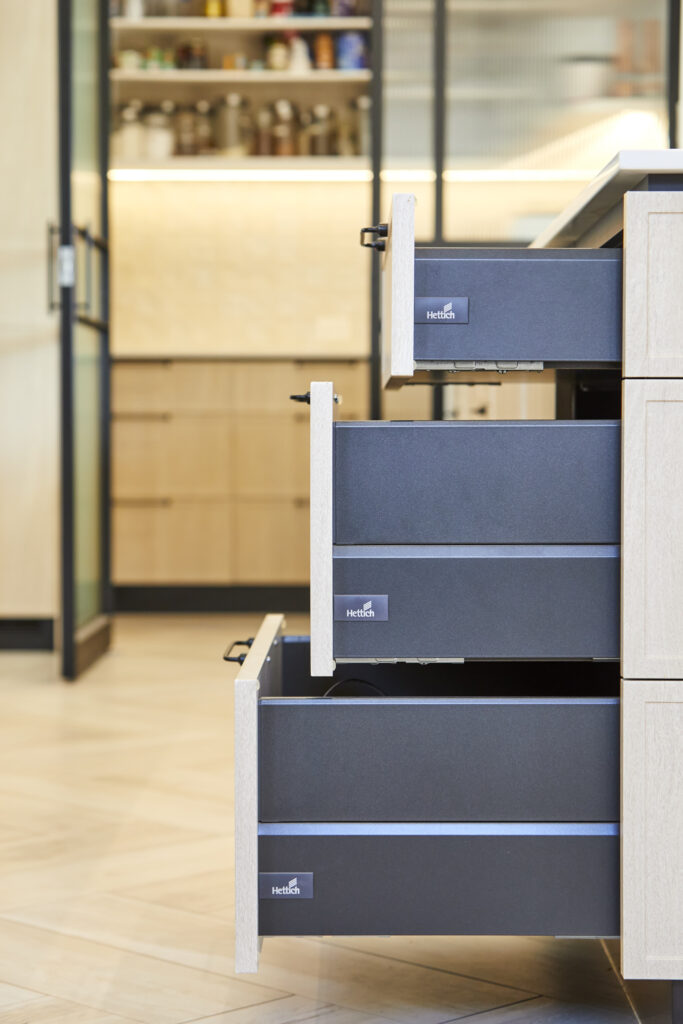 One of the standout features of the kitchen is the large window that offers breathtaking views of the veranda, also inviting natural light to flood the space, creating a warm and inviting atmosphere. When the door is closed, this window provides a blurred preview from the outside, adding an element of anticipation.
However, upon opening the door, Brent and his guests can be greeted by a spacious pantry. With a long wooden countertop and ample shelves, this pantry is designed to provide convenient storage for all kitchen essentials.
A White Haven
This bedroom exudes sophistication with its pristine white cabinets and drawers, harmoniously paired with light wooden floorboards arranged in a captivating zig-zag pattern. Soft beige curtains gracefully drape the windows, further enhancing the room's inviting and natural ambiance.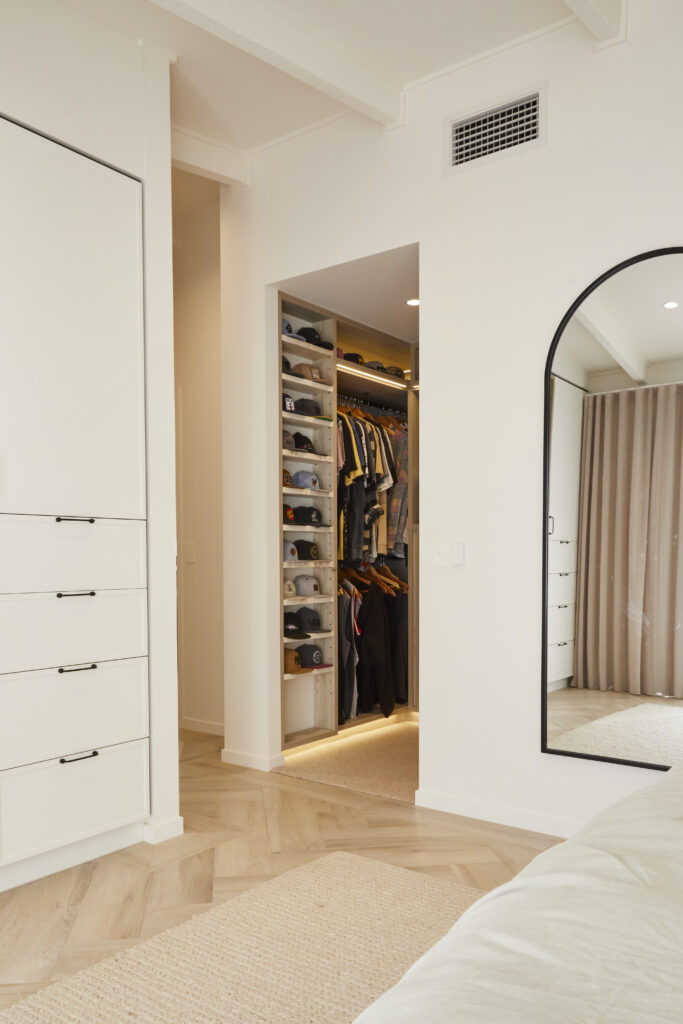 In any bedroom, drawers play a pivotal role. They offer essential storage for clothes, personal belongings, and the various odds and ends that accumulate over time. Without ample storage, maintaining a tranquil sanctuary can become a challenging task, often leading to frustration after a long and busy day.
When it comes to optimising storage space and seamlessly blending it with your existing bedroom furniture and desired aesthetic, the AvanTech YOU drawer system represents the pinnacle of luxury and functionality. Featuring 16 AvanTech YOU drawers expertly integrated into the bedroom's interior decor, this abundance of storage elegantly resolves the issue of clutter.
The Outdoor Space
The outdoor space of the Buderim home stands out as a prominent feature, offering an exquisite alfresco kitchen equipped with a dedicated BBQ grill and sink, complete with the inclusion of Hettich ArciTech drawers beneath for added functionality. As you step outside, your attention is immediately drawn to the captivating pentagon-shaped swimming pool, enclosed within a glass-fenced enclave, thoughtfully designed to include sunbathing lounges—an ideal spot for enjoying the Aussie summer.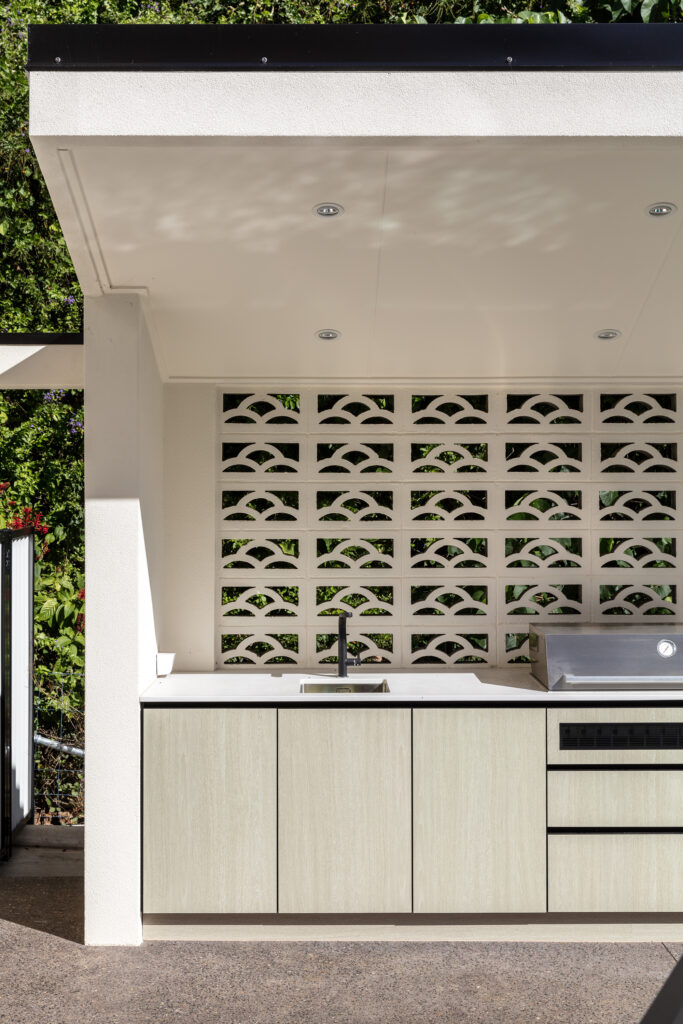 With a combined experience of 100 years, the team at G&M Craftsman Cabinets recognises the importance of quality and advocates Hettich products. When it comes to servicing the Sunshine Coast, G&M Craftsman Cabinets has one single goal in mind; to "be the best". Through expertise, exceptional-quality craftsmanship and a friendly, approachable attitude, the company strives to deliver high standards of service to our customers. Given G&M Craftsman Cabinets unwavering commitment to it's clients, it's hardly surprising the company has picked up several awards over the years, including two master builders titles for "outstanding achievement in trade contracting & cabinetmaking". –G&M Craftsman Cabinets
Featured Products