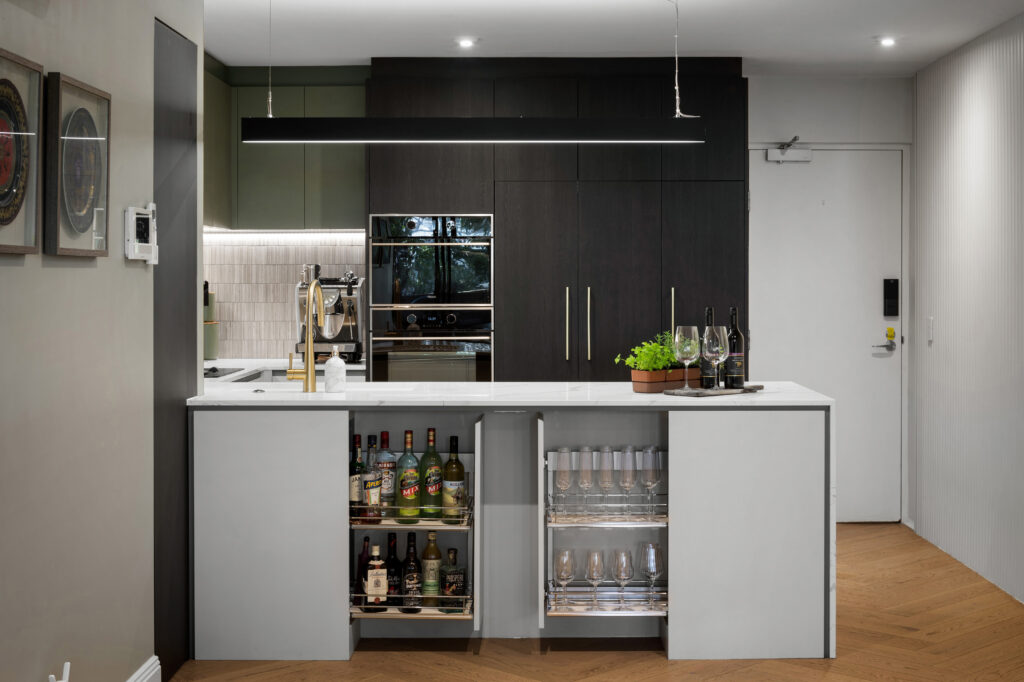 Prior to renovation, the kitchen area was confined, lacking adequate storage, and predominantly occupied by a large freestanding fridge. The clients sought a modern redesign that not only met their desire for more storage but also accommodated their passion for cooking and hosting. Maintaining the apartment's existing layout was a significant challenge along with the limited available space. Nevertheless, Michael Christopher Designs were determined not to shy away from it.
The Power of LightTower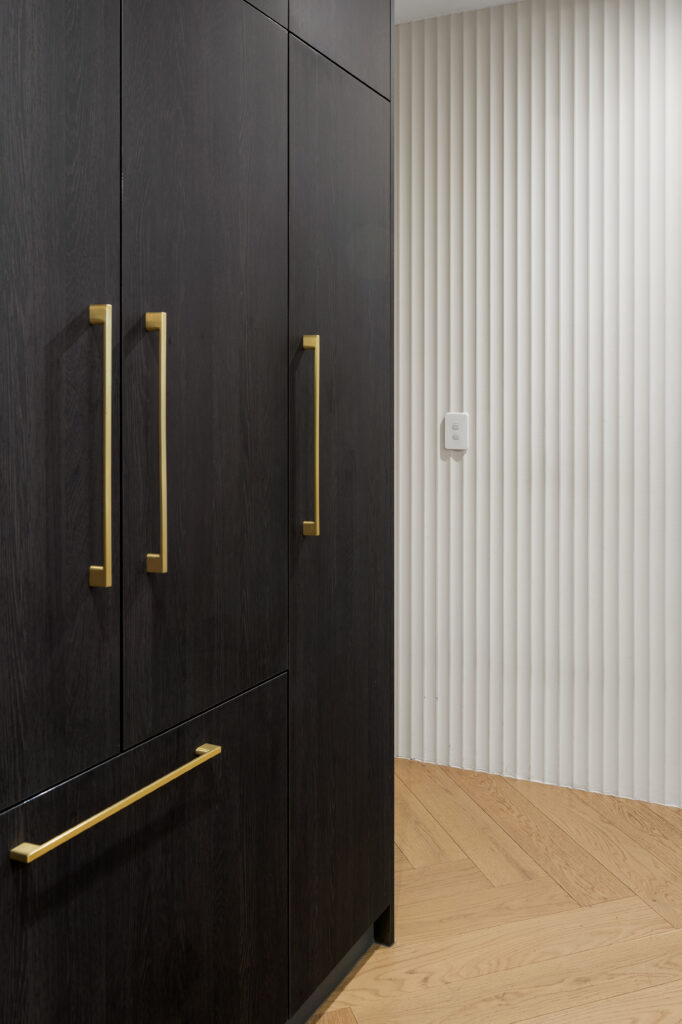 Meeting the client's contemporary requirements while addressing the need for expanded storage, the LightTower pantry offers a versatile solution that accommodates both aspects seamlessly. This innovative system integrates the AvanTech YOU Illumination drawer system into a multi-tiered tower-storage configuration. Comprising five inner drawers, this pantry is complemented by adjacent French doors. These doors not only complement the dark timber aesthetic of the kitchen area but also ingeniously reveal and conceal the refrigerator upon opening, adding a unique and stylish touch to the overall design.
As Michael revealed to us, "the choice to use Avantech YOU Illuminated drawers throughout this small kitchen was both a stylish and practical decision" – this choice not only exemplifies its international renowned reputation but also underlines why it is an acclaimed award-winning drawer system.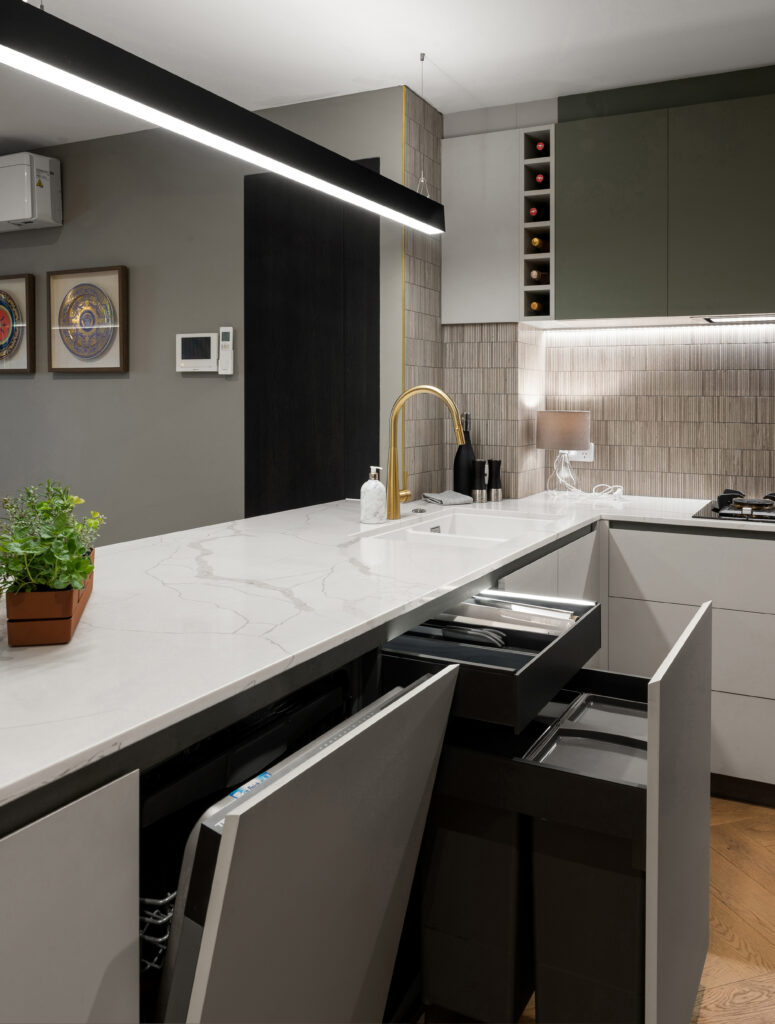 Convenience in Storage and Waste Solutions
The kitchen's design ingeniously incorporated the Lemans II corner unit storage solution into the blind corner positioned to the right of the cooktop – strategically allowing for seamless access to the storage area. Upon opening the door, the concealed swivel unit gracefully emerges, offering accessibility without the need to stretch or reach deep into the cabinet. This intuitive design not only maximises storage convenience but also ensures that items are within easy reach.
When contemplating waste management systems within the kitchen, a highly practical solution was integrated into the design — a bin drawer thoughtfully positioned between the dishwasher and the sink. This well-conceived addition features two generously-sized bins, promoting efficient and organised waste disposal. This placement not only optimises workflow but also contributes to a more organized and clutter-free kitchen environment.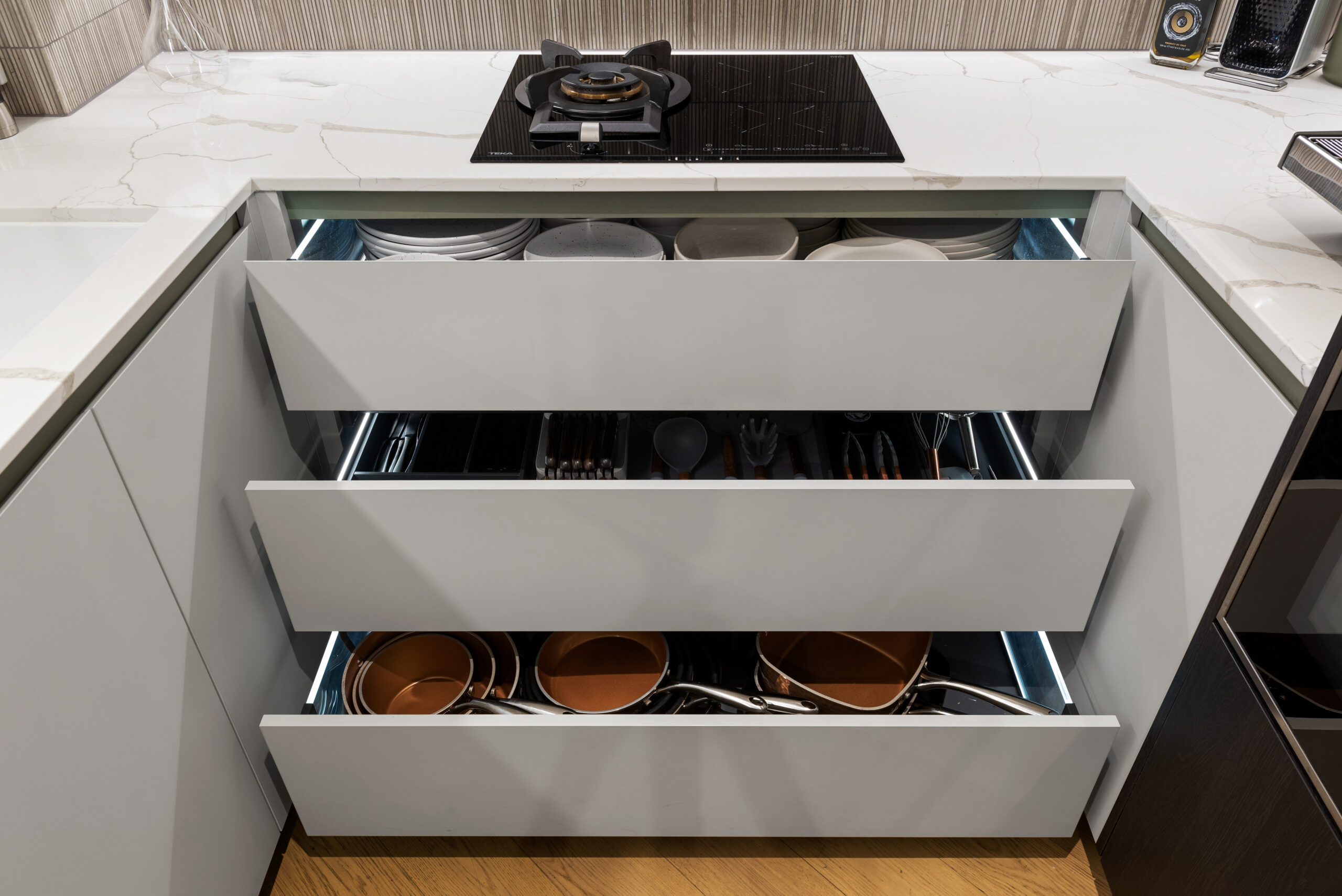 "We absolutely love our kitchen renovation. A huge thank you to Michael Christopher Design for your incredible team for conceptualising and bringing everything together for us – what an amazing outcome!! A massive shout out to Hettich for their innovative and sleek drawer and storage solutions.

Having a beautiful yet functional kitchen space with maximum use of storage with well-thought-out kitchen zones makes working in the kitchen a breeze.

We couldn't be happier with the finished product. Thank you Michael."
– Anthony Saava, Client
Featured Products